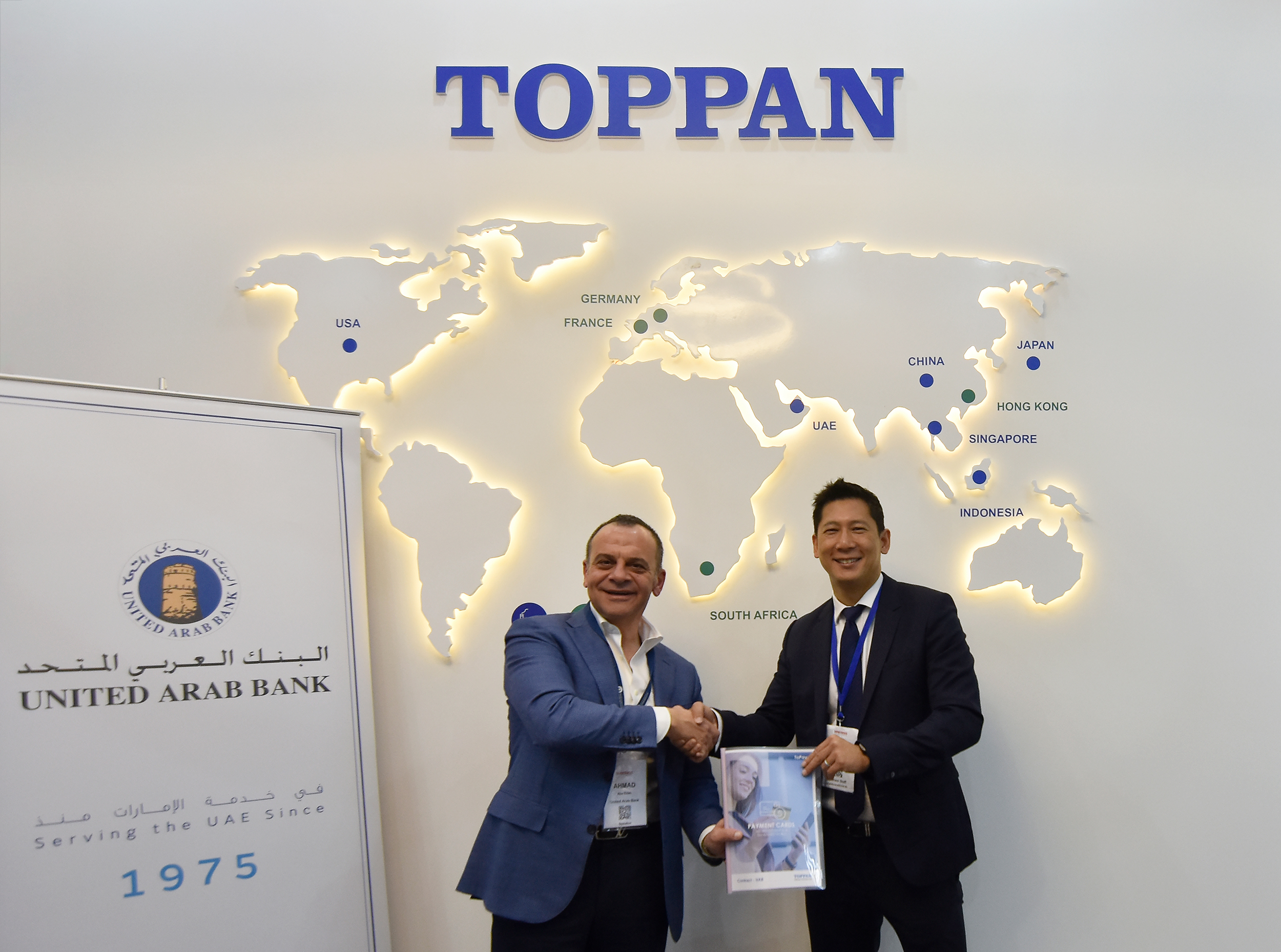 Toppan FutureCard collaborates with United Arab Bank to launch the first payment card in the Middle East made of a 100% recycled PVC card base
Dubai, September 30, 2021 – Toppan FutureCard, a Toppan Company, and UAE-based global end-to-end card solutions provider, will offer together with United Arab Bank, one of UAE's most progressive banks, the first card with 100% recycled PVC core in the Middle East.
During one of the largest B2B conferences and exhibitions, Seamless Middle East, Jean-Pierre Ting, the Managing Director of Toppan FutureCard signed a contract with United Arab Bank's CEO, Ahmad Mohammad Abu Eideh, for the issuance of OxyCYCLE PVCr cards, payment cards made of a 100% recycled PVC card base. This new deal makes United Arab Bank, with the support of Toppan FutureCard, the first bank in the Middle East to offer a payment card with 100% PVCr card core..
"At Toppan, we continuously strive to develop new technologies and materials to meet our high standards and continuously move towards a sustainable future. As a result, we have managed to create our Oxy card series, the biggest portfolio of eco-friendly cards available on the market. It is our pleasure to share this success with our valuable customer UAB and to go green together", says Jean-Pierre Ting, Managing Director of Toppan FutureCard.
Commenting on the launch, Mr. Ahmad Abu Eideh, Chief Executive officer at United Arab Bank said: "We are pleased to partner with Toppan FutureCard to be the first Bank in the Middle East to offer a banking card with a 100% recycled PVC card body." He added "The new card reinforces our continued commitment in providing smart solutions that support our community and the environment as well as enhance our customer experience. The eco-friendly card is one of many initiatives UAB is taking to bring sustainability to the forefront."
The OxyCYCLE cards are in line with the UAE's efforts working towards a greener future and their new policy to eliminate the use of avoidable single-use plastic materials by 2021 through fostering a culture of recycling and re-use and encouraging more sustainable practices*. OxyCYCLE PVCr cards are made of 100% non-virgin PVC, generating a carbon footprint reduction of 8%, compared to conventional PVC cards.
The collaboration between Toppan FutureCard and United Arab Bank allows both companies to follow sustainable developments and environmental responsibilities to contribute to a greener world.
___________________________________________________________________________________
ABOUT UNITED ARAB BANK
United Arab Bank (UAB) will be the trusted partner and the UAE bank of choice for our customers, shareholders, and employees, leading the way to greater financial prosperity while remaining committed to the highest integrity standards.
ABOUT TOPPAN FUTURECARD
FutureCard Ind. L.L.C., member of Toppan Group, is a UAE based global provider of end-to-end card solutions with the focus on payment, ID, transport, telecom, loyalty, and retail. Since 2003 FutureCard is designing, manufacturing and customizing high quality and cutting-edge smartcard technologies and solutions.
ABOUT TOPPAN
Established in Tokyo in 1900, Toppan is a leading and diversified global provider committed to delivering sustainable, integrated solutions in fields including printing, communications, security, packaging, décor materials, electronics, and digital transformation. Toppan's global team of more than 50,000 employees offers optimal solutions enabled by industry-leading expertise and technologies to address the diverse challenges of every business sector and society and contribute to the achievement of shared sustainability goals.
Please contact us for more information: info@toppangravity.com