IDENTIFICATION
Making sure that you stay unique
Toppan FutureCard offers a wide range of identification documents including ID, driving license, vehicle registration, voter ID, employee and student ID as well as health card. We understand the concerns regarding identity protection and the need to constantly upgrade these ID documents to include high security printing features. Therefore, we have adapted our manufacturing to respond to the needs of our clientele with the most sophisticated and fraud-proof security elements.
Institutions trust Toppan FutureCard with the production, personalization and deployment of their identification cards through rigorous processes and turnkey solutions.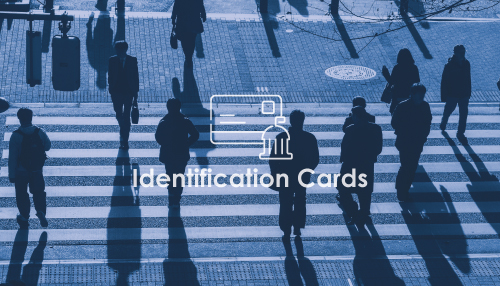 IDENTIFICATION CARD TYPES
Toppan FutureCard provides tamper-proof, highly secure ID cards
ID's carry vital and highly sensitive information, therefore Toppan FutureCard equips its ID cards with a wide range of highly reliable security elements according to customer's requirements. We provide human-readable features, machine readable technologies and authentication elements.
Toppan FutureCard offers advanced driving licenses that are compliant with the ISO/IEC 18013 which establishes guidelines for the design format and data content of an eDL. These cards are equipped with reliable level 1 and level 2 security features, according to customer needs.
At Toppan FutureCard, we offer highly secure vehicle registration cards to protect all data related to your vehicle's identity.
Thanks to our secure Voters ID card features, we make sure that only the eligible votes are made and that there is no counterfeiting. On top of Voters ID's, we offer complete election materials for genuine and confidential elections.
Toppan FutureCard offers fully customized employee & student ID cards with all kind of design elements and security features required by our clients.
Highly sensitive data is stored on health cards; thus we ensure that our health cards are secure at all times by adding the client's picture along with selected anti-fraud features, making this card a tamper-proof ID.

IDENTIFICATION CARD OPTIONS
Discover the various card options, solutions and services we offer with regard to our ID cards.